The Guthrie Clinic Announces Four New Female Leaders on International Women's Day
March 8, 2022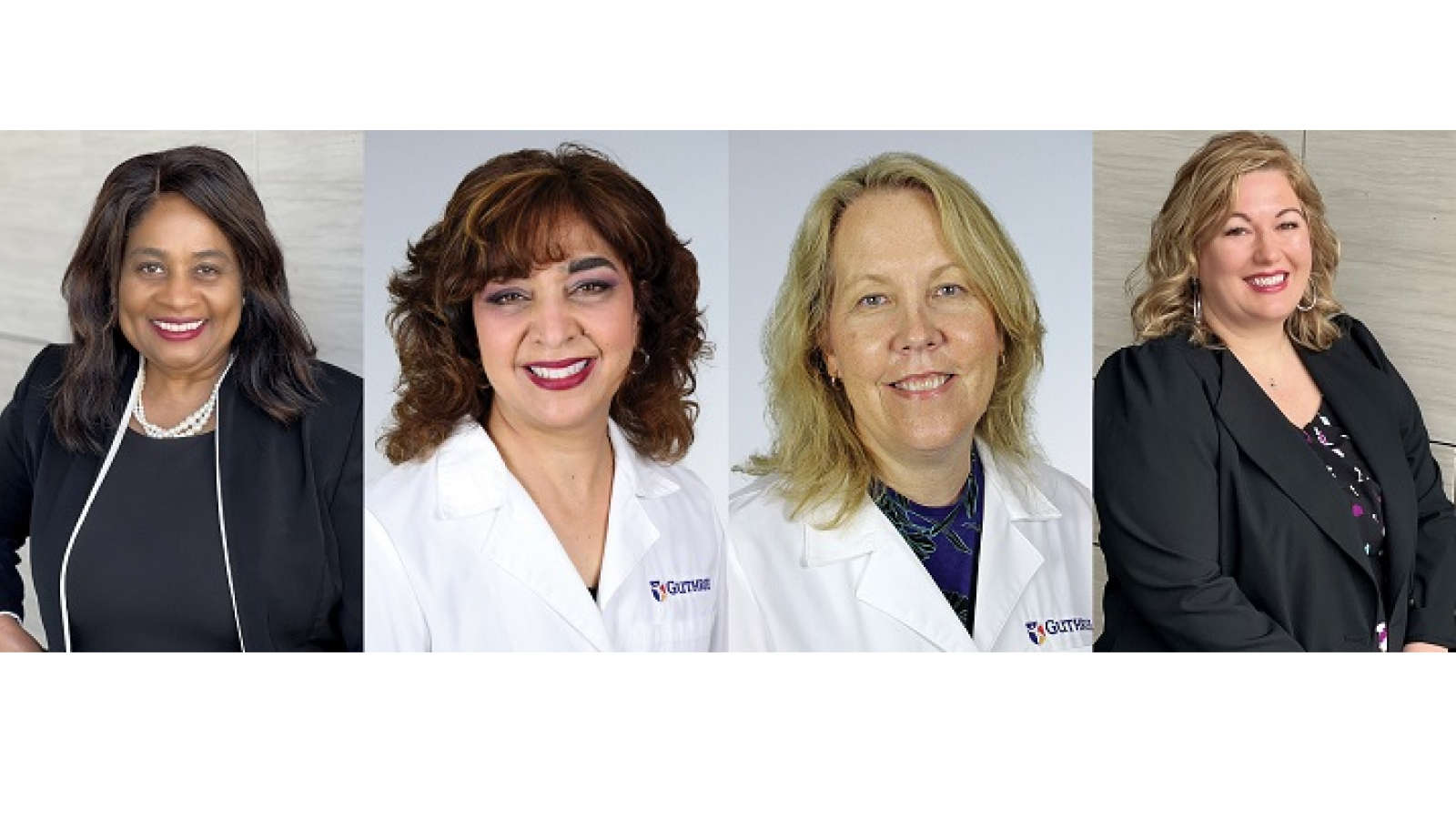 The Guthrie Clinic is pleased to announce the appointment of four new female leaders. The announcement comes on International Women's Day, a day to celebrate women's achievement, raise awareness against bias and take action for equality. The addition of these new leaders exemplifies the organization's commitment to improving the patient experience, quality, and safety, while advancing the overall health of the communities it serves. The promotion of these female leaders is also a step on Guthrie's journey to maintaining a diverse and inclusive workforce. 
Guthrie welcomes Patricia Vassell, DNP, MBA, BSN, CNOR as Vice President, Nursing Services/Chief Nursing Officer at Guthrie Robert Packer Hospital. Patricia brings with her over 35 years of nursing experience, more than 20 of which have been in nursing leadership. She has held multiple leadership roles including Director of Nursing, Associate Chief Nursing Office, and Interim Chief Nursing Officer. Patricia's most current role was the Director of Nursing for Riddle Hospital, Media Pa. Patricia is a member of the Association of Perioperative Registered Nurses, Sigma Theta Tau, International Honor Society of Nursing, American College of Healthcare Executives, and the American Organization of Nurse Leaders. Patricia holds a Master of Business Administration from University of Phoenix, Ft. Lauderdale, FL and Doctor of Nursing Practice from American Sentinel University, Denver, CO.  
Patricia brings leadership and stability to Nursing Services at Guthrie and will help position Guthrie as the top choice for nurses to grow their careers, offering competitive pay, tuition reimbursement programs, and participation in shared governance councils.  
Lisa Esolen, MD, FIDSA is Guthrie's new EVP, Chief Quality Officer. Dr. Esolen most recently served as the Chief Medical Officer for Guthrie Robert Packer Hospital, Sayre and Towanda campuses, and Guthrie Troy Community Hospital.  Previously, she was the Chief Quality Officer and Associate Chief Medical Officer for the Steward Health System (Dallas, Tx).  Regionally, she was the Assistant Chief Quality Officer/System Director of Infection Control at the Geisinger Health System.  Dr. Esolen received both her Internal Medicine Residency and Infectious Disease Fellowship training from The Johns Hopkins Hospital, Baltimore, MD. 
In her new role, Dr. Esolen will have system responsibility for Quality, Patient Safety and Experience, focused on continuing The Guthrie Clinic's rich history of high-quality patient-centered care.   
Cathleen Veach, MBA, MD has accepted the position of Chief Medical Information Officer. Since joining Guthrie in August 2020, Dr. Veach has led the Clinical Decision Support Committee and is a Physician Builder for Medical Informatics. She has been active as a medical informatician. Dr. Veach previously worked at UPMC Pinnacle where she was the Medical Group Chief Quality Officer and EPIC Ambulatory Champion. Dr. Veach received her Bachelor of Science degree from The Pennsylvania State University and her Masters in Business Administration from Indiana University, Bloomington, Indiana. She attended medical school at Oregon Health Sciences University, Portland Oregon and completed her residency at the Washington Hospital Family Medicine Residency in Washington, Pennsylvania.  
Dr. Veach will be responsible for supporting the development of the clinical information systems that assist clinicians in the delivery of high-quality patient care.  
Kansas Underwood, BSN, MSM, CNML, CPC has been named the new Vice President, Nursing/Chief Nursing Officer for Guthrie Cortland Medical Center. Underwood has a background is in critical care nursing and trauma emergencies, serving most recently as interim CNO and System Senior Director of Emergency Services at Cayuga Medical Center. She has also been Nursing Director of a medical/palliative unit, telemetry unit, dialysis service line and manager of inpatient surgical services.  
Underwood received her associate degree in Nursing in 2004 from Tompkins Cortland Community College, her BSN from SUNY Upstate Medical University and her Master of Science and Management from Keuka College. She served on the board for local home care services, Hospice and is a member of the American Organization for Nursing Leadership, the American Nurses Association, and the Emergency Nurses Association. 
Underwood will focus on recruitment and retention of high-quality nurses, while giving them the ability to use their voice to function as change makers within their respective departments.  
Dr. Edmund Sabanegh, Guthrie Clinic's President and CEO said, "Guthrie is proud to add these highly skilled and talented leaders to our team. I look forward to working with them to ensure Guthrie remains a leader in providing safe, patient-centered care." 
The Guthrie Clinic is a non-profit integrated health system located in north central Pennsylvania and upstate New York, serving patients from a twelve-county service area. The Guthrie Clinic is comprised of a research institute, home care/hospice, hospitals in Sayre, Pa., Corning, N.Y., Towanda, Pa., Troy, Pa. and Cortland, N.Y., as well as a multi-specialty group practice of nearly 700 providers offering 47 specialties through a regional office network providing primary and specialty care in 22 communities in Pennsylvania and New York. The Guthrie Clinic is dedicated to training the next generation of health care leaders, offering seven residencies and three fellowships. The Guthrie Clinic provides a wide range of services and programs to enhance the health and well-being of those it serves.