Guthrie Celebrates One-Year Anniversary of  Newman W. Benson Acute Rehab Unit 
August 10, 2022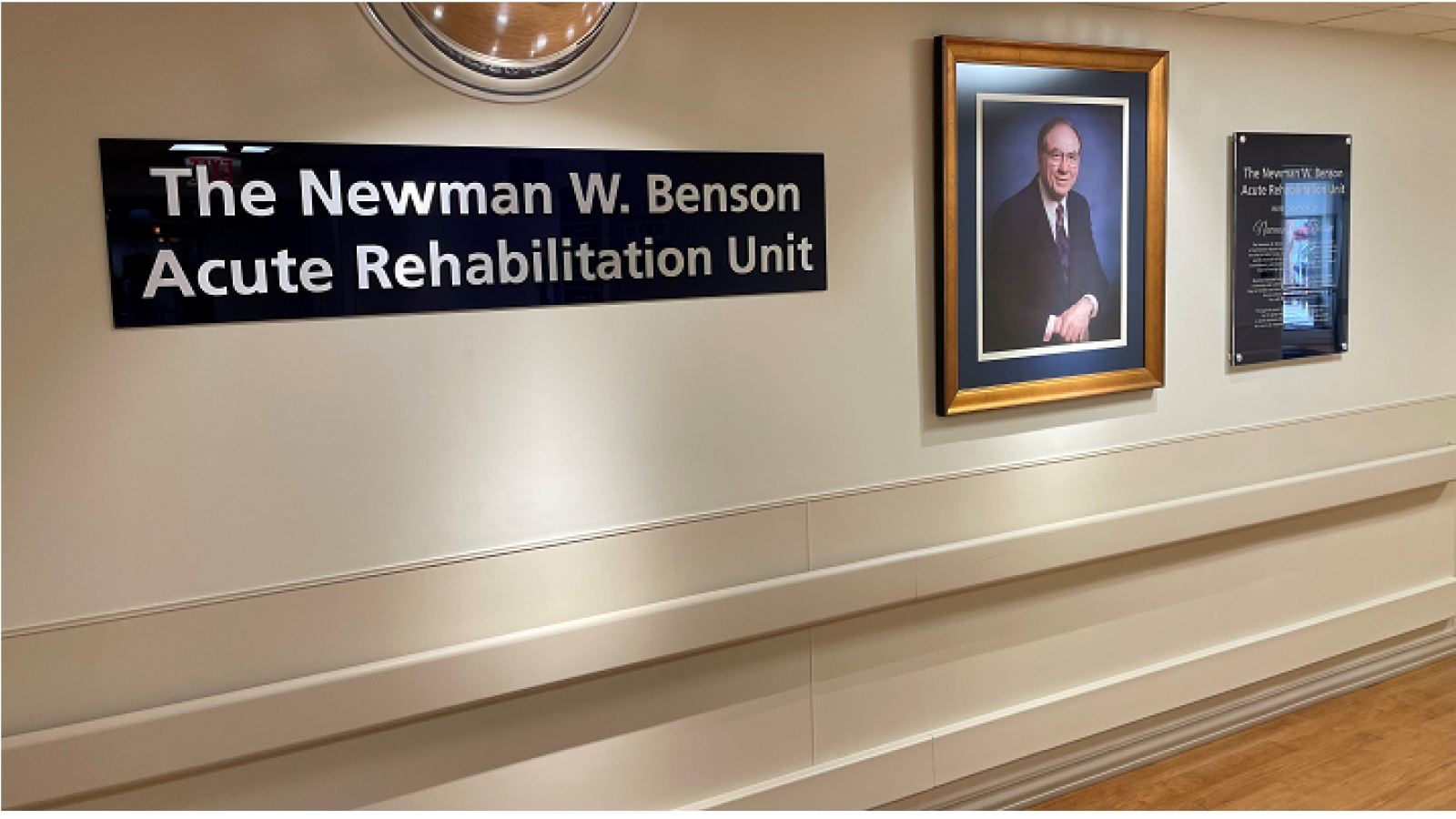 Today, Guthrie celebrated the one-year anniversary of The Newman W. Benson Acute Rehabilitation Unit, a 15-bed inpatient rehabilitation center at the Guthrie Robert Packer Hospital, Towanda Campus.    
     
In its first year, the centers' staff of highly trained professionals has provided nurturing support and physical rehabilitation to more than 250 patients who have experienced the debilitating effects of an acute injury, impairment, or illness.  
 
"Robert Silvernail, a recent patient of the unit said, "I had a stroke and had no feeling on the left side of my body at all. The staff in the unit helped me re-learn how to walk and talk. I felt like a prisoner in my own body when I got here, and look at me now!"  
 
Patients in the acute rehab unit receive a minimum of three hours of therapy each day for at least five days a week. A team of compassionate providers work with patients and those involved in their care to develop a treatment plan unique to them, so they can get back to a more normal routine at home as soon as possible.   
 
Silvernail said, "In just 20 days, with the tools they gave me, I have my freedom back. I never would have thought that I'd have such a wonderful, compassionate group of people that had one goal in mind, which was to make me better."  
 
The unit is named in honor of the late Newman W. Benson and Patricia A. Benson's generosity and longtime support of Guthrie.   
The Guthrie Clinic is a non-profit multispecialty health system that integrates clinical and hospital care with research and education. Located in Sayre, Pennsylvania, The Guthrie Clinic is one of the nation's longest established group practices, founded in 1910 by Dr. Donald Guthrie with a vision of providing patient-centered care through a clinically integrated network of employed providers. It is an industry leader in the use of technology and electronic medical record to provide high-quality care. Among The Guthrie Clinic's 6,500 caregivers are more than 700 physicians and advanced practice providers, representing the spectrum of medical specialties and sub-specialties. The Guthrie Clinic is a five-hospital system with a large network of outpatient facilities that spans nearly 9,000 square miles in Pennsylvania and upstate New York. It is dedicated to training the next generation of health care leaders, offering seven residencies and three fellowships.   
  
Visit us at Guthrie.org. Follow us at Twitter.com/GuthrieClinic, Facebook.com/TheGuthrieClinic, Linkedin.com/company/TheGuthrieClinic, and Instagram.com/TheGuthrieClinic.