Guthrie Caregivers Come Together to Help Veteran
February 20, 2023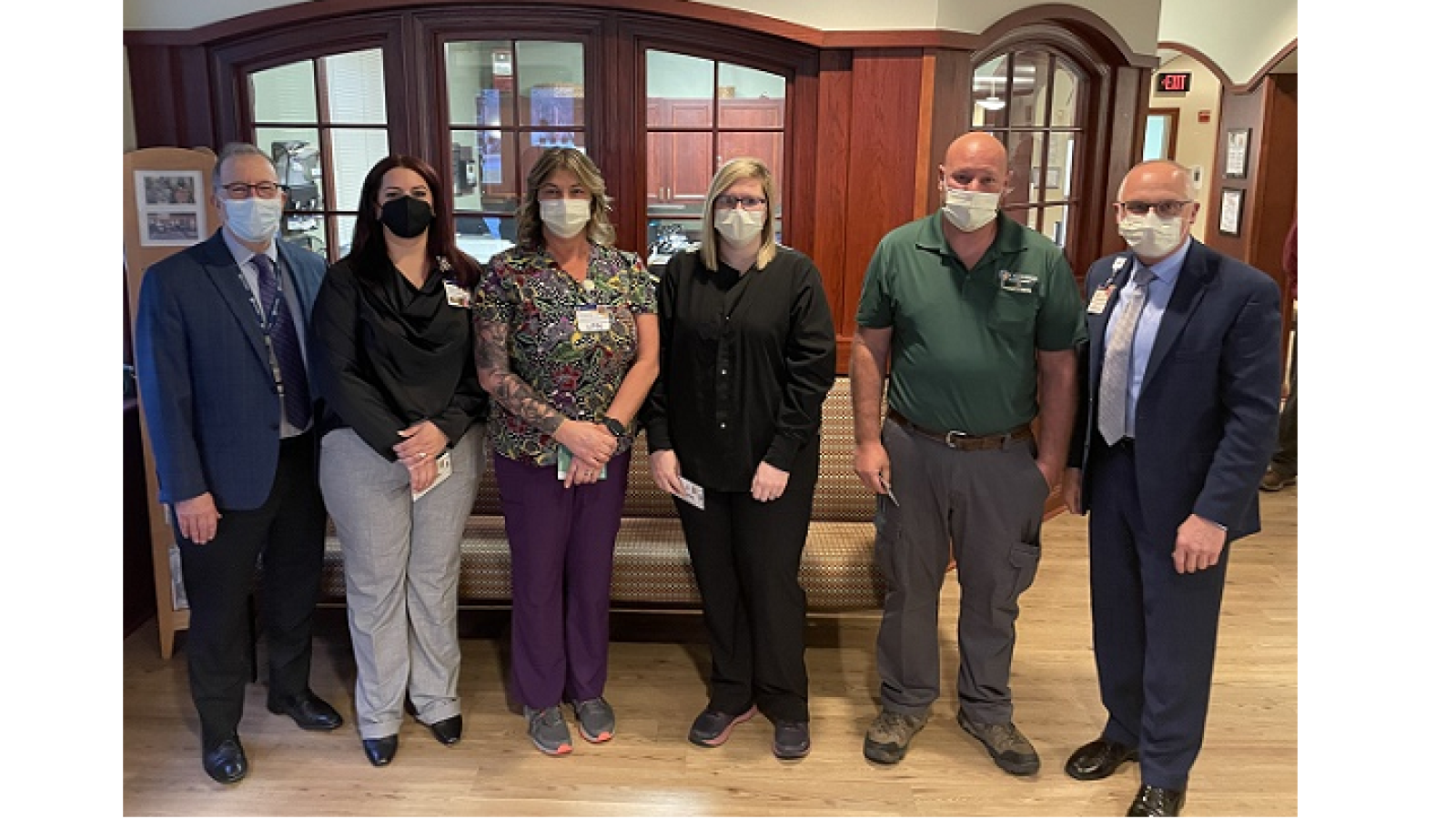 Pictured left to right: Dr. Ed Sabanegh, President and CEO, Guthrie, Jaimie Helmbright, Lisa Griffith, Kristin Brown, Brian Ackley, and Paul VerValin, Executive Vice President for Hospital and Ambulatory Services
Before being admitted to the hospital for an acute illness, a local veteran was living in a hotel. Upon his discharge from the hospital, he was informed by the hotel that he was no longer welcome and that they had disposed of all his belongings, leaving him homeless and with none of his personal items, including important documents regarding his veteran status and even his birth certificate. When the patient arrived at the Towanda Personal Care Home, Guthrie caregivers sprang into action to help him get back on his feet. 
Lisa Griffith, LPN, reached out to Veteran Affairs of Bradford County and Chemung County for assistance in securing a budget-friendly apartment. Not only was Lisa able to find an apartment for him, she also fully furnished the apartment and stocked it with non-perishable foods. She then took the patient to the pharmacy and made sure his medications were filled and worked closely with local thrift shops to assist him in getting clothing. Kristin Brown, Admin Assistant, was able to acquire a bed and bedroom set for the patient. Jaimie Helmbright, Administrator, arranged for the patient's important documentation, such as DD214, social security card, and birth certificate, to be delivered directly to his new apartment. She also worked with the Bath VA, establishing care for the patient. Brian Ackley, Maintenance Tech, moved all the donated belongings to the new apartment using his personal truck, and even helped the patient move in and get settled. 
Jaime Helmbright, Administrator, Guthrie Towanda Personal Care Home, said, "By working together, we were able to make sure the patient was discharged safely. This is a prime example of teamwork, and the reason Guthrie is phenomenal to work for, because we care and have compassion for all."
"I am extremely proud of, but not surprised by the compassionate actions of our Guthrie caregivers," said Dr. Edmund Sabanegh, President and CEO, The Guthrie Clinic. "Our team looks beyond the care we provide to members of our community inside our walls, especially the men and women who make the sacrifice to serve our country."
The Guthrie Clinic is a non-profit multispecialty health system that integrates clinical and hospital care with research and education. Located in Sayre, Pennsylvania, The Guthrie Clinic is one of the nation's longest established group practices, founded in 1910 by Dr. Donald Guthrie with a vision of providing patient-centered care through a clinically-integrated network of employed providers. It is an industry leader in the use of technology and electronic medical records to provide high-quality care. Among The Guthrie Clinic's 6,500 caregivers are more than 700 physicians and advanced practice providers, representing the spectrum of medical specialties and sub-specialties. The Guthrie Clinic is a five-hospital system with a large network of outpatient facilities that spans nearly 9,000 square miles in Pennsylvania and upstate New York. It is dedicated to training the next generation of health care leaders, offering seven residencies and three fellowships.
Visit us at Guthrie.org. Follow us at Twitter.com/GuthrieClinic, Facebook.com/TheGuthrieClinic, Linkedin.com/company/TheGuthrieClinic, and Instagram.com/TheGuthrieClinic.