Guthrie Awards Grant in Support of Local Children in Need
November 18, 2022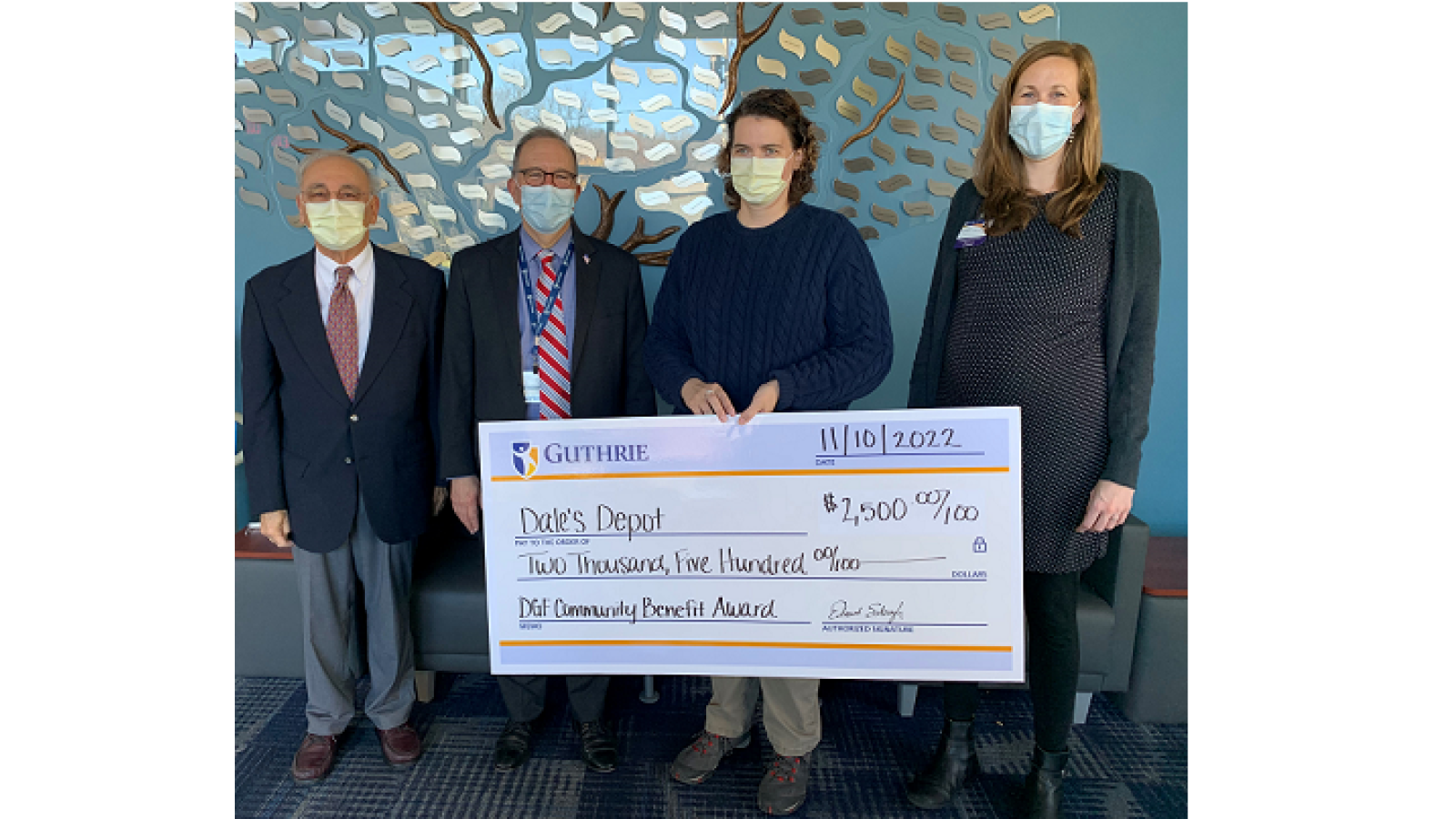 Dr. Charles Fedele, Member of the Donald Guthrie Foundation Community Benefit Committee, Dr. Edmund Sabanegh, Guthrie President and CEO, Julie Kerrick, Director and Founder of Dale's Depot, and Carly Nichols, Program Manager
Guthrie's Community Benefit Grant Program awarded $2,500 to Dale's Depot in support of local children and teens in foster care.
Dale's Depot, located in Towanda, Pa., will use the funds to support their efforts to provide needed supplies to local children in foster care. Dale's Depot aims to fill gaps in services that other programs provide. In addition to supporting children and teens by providing them with needed clothing, shoes, and more, they have also partnered with the Salvation Army for the last two years to provide book bags and school supplies to those in need. At Christmas, while many agencies seek to provide gifts for children in need who are under 12, Dale's Depot focuses on providing gifts for teens.
This grant was awarded as part of Guthrie's Community Benefit Grant Program, which funds projects based on Guthrie's Community Health Needs Assessment. The Patient Protection and Affordable Care Act (PPACA) requires non-profit hospitals to complete a community needs assessment (CHNA) every three years. The following areas of need were identified for 2020-2023: obesity, access to mental health providers, and cancer incidence with a focus on tobacco usage. The Community Benefit Committee continues to seek opportunities to support local nonprofits addressing mental health needs. Guthrie is proud to support an organization providing dignity to children experiencing traumatic circumstances and supporting their physical needs during a vulnerable time.
For more information about Guthrie's Community Benefit Grant Program, including instructions on how to apply for a grant, visit www.guthrie.org/about-us/community-benefits. For more information about Dale's Depot, visit www.dalesdepot.org.
The Guthrie Clinic is a non-profit multispecialty health system that integrates clinical and hospital care with research and education. Located in Sayre, Pennsylvania, The Guthrie Clinic is one of the nation's longest established group practices, founded in 1910 by Dr. Donald Guthrie with a vision of providing patient-centered care through a clinically-integrated network of employed providers. It is an industry leader in the use of technology and electronic medical records to provide high-quality care. Among The Guthrie Clinic's 6,500 caregivers are more than 700 physicians and advanced practice providers, representing the spectrum of medical specialties and sub-specialties. The Guthrie Clinic is a five-hospital system with a large network of outpatient facilities that spans nearly 9,000 square miles in Pennsylvania and upstate New York. It is dedicated to training the next generation of health care leaders, offering seven residencies and three fellowships.
Visit us at Guthrie.org. Follow us at Twitter.com/GuthrieClinic, Facebook.com/TheGuthrieClinic, Linkedin.com/company/TheGuthrieClinic, and Instagram.com/TheGuthrieClinic.