Guthrie Awards Grant to Support Area Families
June 6, 2023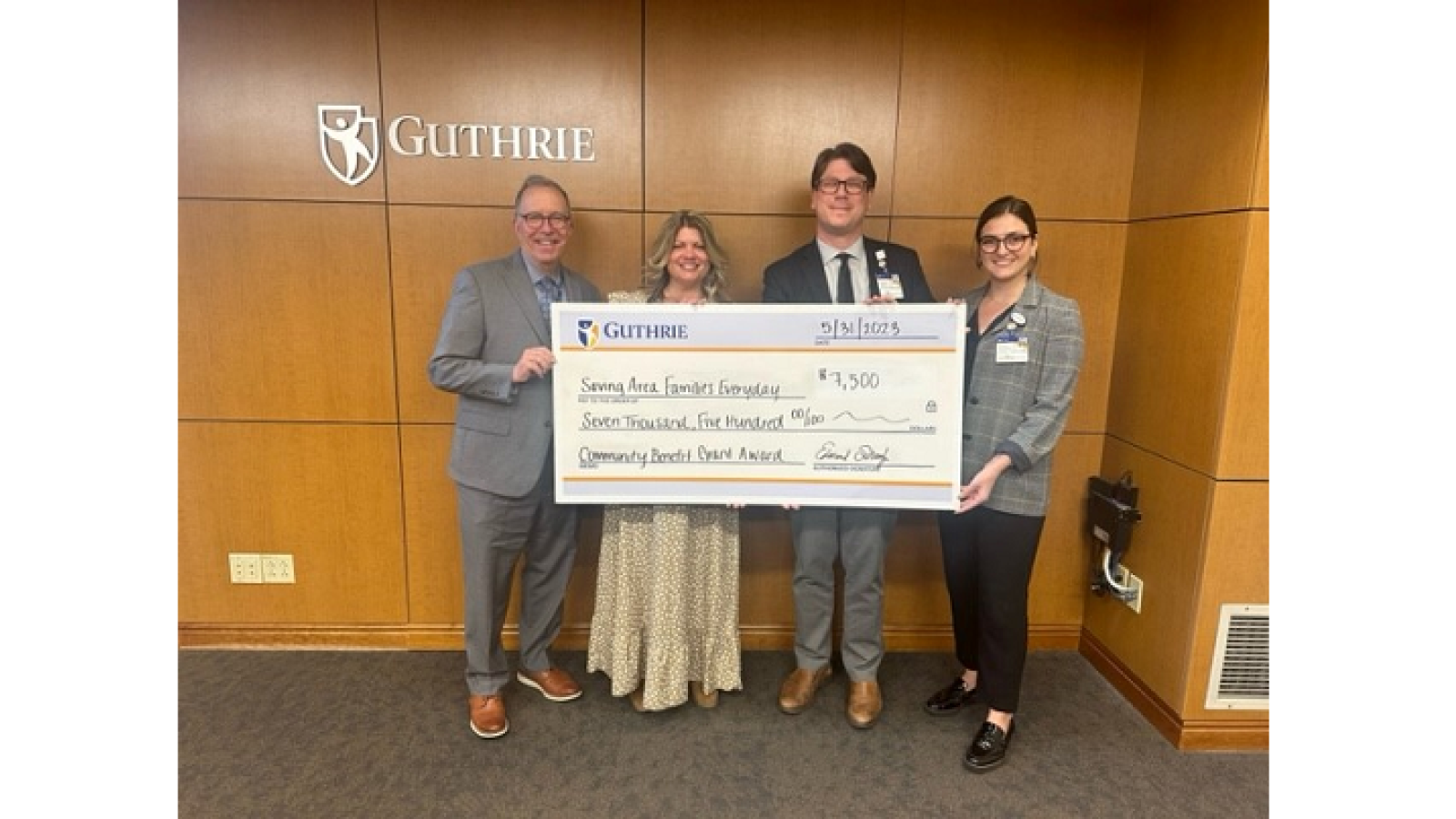 Pictured from left to right: Dr. Ed Sabanegh, President & CEO, The Guthrie Clinic/Community Benefit Committee Member; Heather McNett, Executive Director, Supporting Area Families Everyday; John Petrov, EVP/Chief Caregiver Officer/Community Benefit Committ
Guthrie's Community Benefit Program awarded $7,500 to Supporting Area Families Everyday (SAFE) in support of its efforts to reduce the impact and long-term effects of parental separation on children by teaching parents how to manage conflict, build stability, and minimize truancy. Mental health was identified as one of the major health risks in Guthrie's Community Health Needs Assessment and we are proud to support projects that promote mental health support.
SAFE aims to preserve the mental health of children and their caretakers by providing education and ending the immediate danger of domestic violence. They provide services around safe custody exchanges, supervised visitation, and parenting classes to the community.
This grant was awarded as part of Guthrie's Community Benefit Grant Program, which funds projects based on Guthrie's Community Health Needs Assessment. The Patient Protection and Affordable Care Act (PPACA), requires non-profit hospitals to complete a community needs assessment (CHNA) every three years. The following areas of need were identified for 2020-2023: obesity, access to mental health providers, and cancer incidence with a focus on tobacco usage.
For more information, or to apply for a Guthrie Community Benefit Grant, please visit www.guthrie.org.
The Guthrie Clinic is a non-profit multispecialty health system that integrates clinical and hospital care with research and education. Located in Sayre, Pennsylvania, The Guthrie Clinic is one of the nation's longest established group practices, founded in 1910 by Dr. Donald Guthrie with a vision of providing patient-centered care through a clinically-integrated network of employed providers. It is an industry leader in the use of technology and electronic medical records to provide high-quality care. Among The Guthrie Clinic's 6,500 caregivers are more than 700 physicians and advanced practice providers, representing the spectrum of medical specialties and sub-specialties. The Guthrie Clinic is a five-hospital system with a large network of outpatient facilities that spans nearly 9,000 square miles in Pennsylvania and upstate New York. It is dedicated to training the next generation of health care leaders, offering seven residencies and three fellowships.
Visit us at www.Guthrie.org. Follow us at Twitter.com/GuthrieClinic, Facebook.com/TheGuthrieClinic, Linkedin.com/company/TheGuthrieClinic, and Instagram.com/TheGuthrieClinic.