Dandy and Williams Auto Group Announce Totals Raised During Recent Breast Cancer Awareness Campaigns
November 15, 2023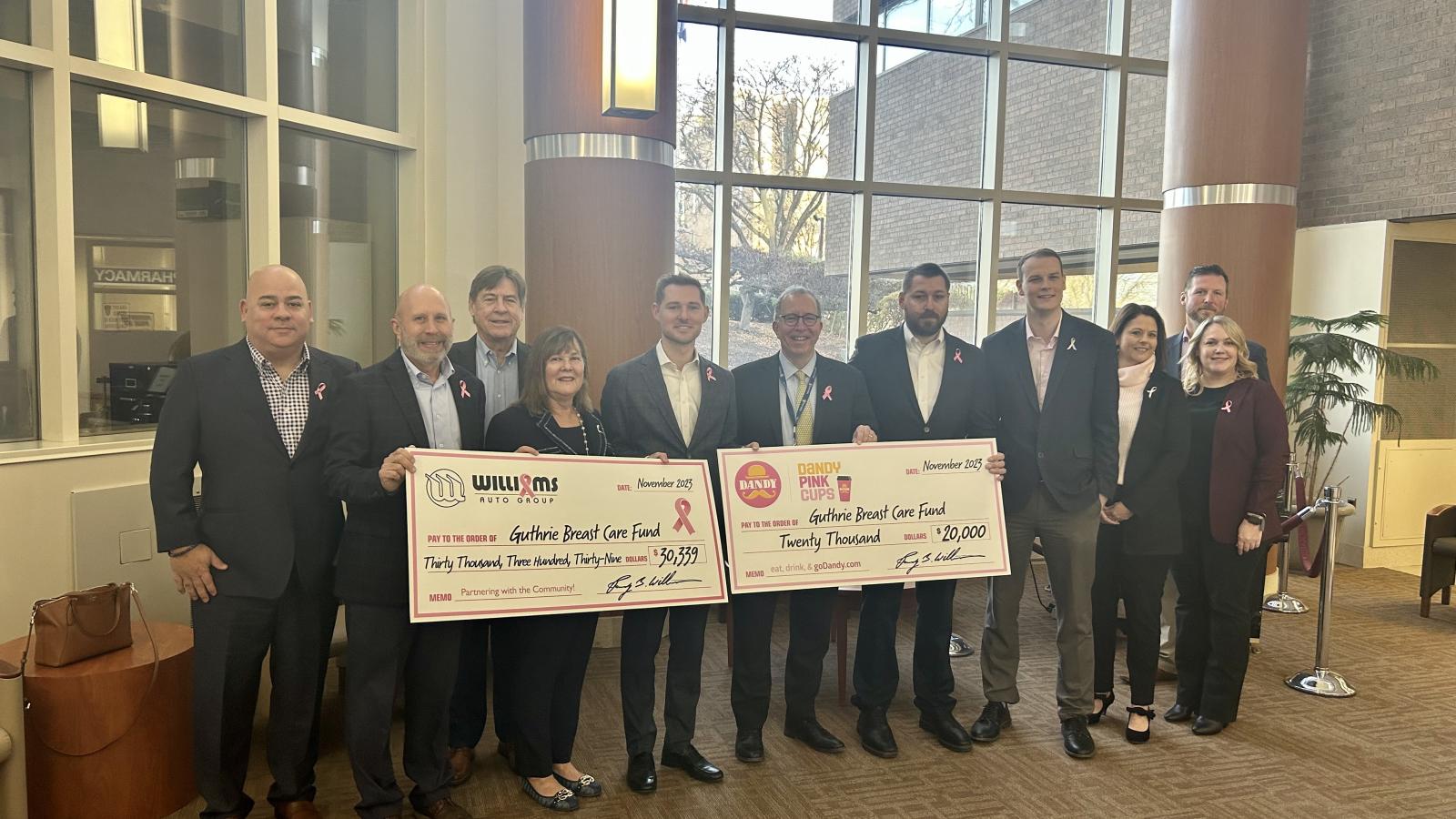 Dr. Edmund Sabanegh, Guthrie President and CEO, accepts donations from Dandy and Williams Auto Group Representatives
Guthrie welcomed representatives from Dandy and Williams Auto Group to Robert Packer Hospital on Wednesday, Nov.15, as the organization accepted over $50,000 in donations following two recent breast cancer awareness campaigns.
Funds raised during October's Dandy "Pink Cups for a Cure" and Williams Auto Group "Drive Pink" campaigns will benefit the Guthrie Breast Care Fund which helps breast care patients receiving treatment at Guthrie with the cost of medication, post-surgical supplies, diagnostic testing, and other items not covered by insurance.
"Dandy is proud to support the Guthrie Breast Care Fund with this gift, resulting from our 13th annual Dandy Pink Cups campaign. As one of Dandy's key community initiatives, this campaign is deeply meaningful for our employees, customers, and communities. Guthrie does tremendous work in assisting local breast care patients who need extra help, and our employees take pride in supporting this work through the success of the Pink Cups campaign" said Dandy President, Randy Williams.
"We're thrilled to continue our partnership with the Guthrie Breast Care Fund in support of local patients," said Dalton Williams, Vice President, Williams Auto Group. "The Williams team is excited to contribute to this initiative for the fifth year and is thankful for the continued support from our loyal customers. We value our partnership with Guthrie and are committed to making a positive impact in the community."
For more than 20 years, the Guthrie Breast Care Fund has helped local patients access the breast health services they need.
Dr. Edmund Sabanegh, President and CEO of Guthrie said, "We are deeply grateful for this generous contribution from the Dandy and Williams organizations. Their support will significantly aid in our efforts to assist breast cancer patients within our local communities."
The Guthrie Clinic is a non-profit multispecialty health system that integrates clinical and hospital care with research and education. Based in Sayre, Pennsylvania, The Guthrie Clinic is one of the nation's longest established group practices, founded in 1910 by Dr. Donald Guthrie with a vision of providing patient-centered care through a clinically-integrated network of employed providers. It is an industry leader in the use of technology and electronic medical records to provide high-quality care. Among The Guthrie Clinic's 6,500 caregivers are more than 700 physicians and advanced practice providers, representing the spectrum of medical specialties and sub-specialties. The Guthrie Clinic is a five-hospital system with a large network of outpatient facilities that spans nearly 9,000 square miles in Pennsylvania and upstate New York. It is dedicated to training the next generation of health care leaders, offering seven residencies and three fellowships.
Visit us at www.Guthrie.org. Follow us at Twitter.com/GuthrieClinic, Facebook.com/TheGuthrieClinic, Linkedin.com/company/TheGuthrieClinic, and Instagram.com/TheGuthrieClinic.
Pictured above from left to right: Brad Lister, Vice President of Operations, Williams Auto Group; Duane Phillips, General Manager, Dandy; Randy & Nancy Williams, Owners, Williams Companies; Dalton Williams, Vice President, Williams Auto Group; Dr. Edmund Sabanegh, President and CEO, Guthrie; Dyson Williams, Vice President, Dandy; Paul Harkenrider, Marketing Director, Dandy; Melanie Sparbanie, Executive Assistant, Williams Companies; Bradley Tanton, Chief Financial Officer, Williams Companies; Emily Osborn, Marketing Director, Williams Auto Group.