Jocelyn Mumbulo, PharmD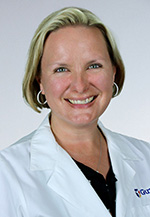 Jocelyn assists patients in the management of obesity, high cholesterol, statin intolerance, smoking cessation, and diabetes. She monitors patients' medications to identify potential interactions and ensure safe and effective therapies.
Jocelyn earned her doctorate of pharmacy degree from Albany College of Pharmacy in 2006. While working in the Guthrie Clinic Pharmacy, Jocelyn assisted in building the Meds to Beds Program within Guthrie Robert Packer Hospital.
In 2018, Jocelyn joined Guthrie's Heart Failure Clinic team at the Guthrie Sayre clinic. She currently meets with heart failure patients as part of a multi-disciplinary team, offering medication education and recommendations.
Jocelyn has strong clinical interests in cardiology and diabetes management. She has always been drawn to the ambulatory, or clinic, care setting, as she values the relationships that she develops with each of her patients. She also believes that a team approach is highly effective in attaining optimal outcomes.