Guthrie Residency Programs: Then and Now
A Visionary Approach to Medical Education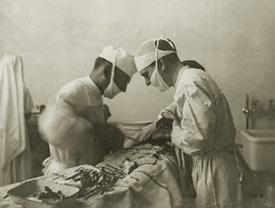 Robert Packer Hospital welcomed its first intern in 1897, at a time when most physicians did not participate in internships. By 1920, under the leadership of Dr. Guthrie, the program expanded to four interns. Dr. Guthrie's educational mission was to provide residents with the highest level of medical training available.
The residency program began in 1923 when the University of Pennsylvania Graduate School of Medicine invited Robert Packer Hospital to co-establish a Fellowship in Surgery. In 1928 Robert Packer Hospital added a Fellowship in Medicine.
Dr. Guthrie established such an excellent reputation for medical programs that in 1924, Dr. Charles W. Mayo, of the Mayo Clinic, sent his son, Charles H. Mayo, to Robert Packer Hospital for an internship. Charles H. was so impressed with the program that he sent his son, also named Charles, to Robert Packer for an internship in 1958.
During the past century, the residency programs at Guthrie have evolved into leading edge educational opportunities that reflect the excellent standards expected in today's medical community, while upholding the original values of excellence and one-on-one physician/faculty mentoring of residents that Dr. Guthrie established in the early 1920's.