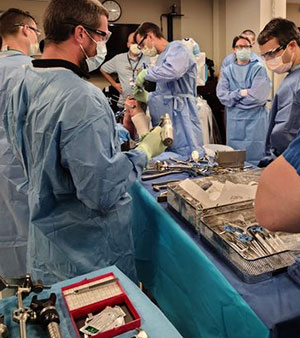 Guthrie's Simulation & Advanced Skills Institute (SASI), formerly known as Clinical Skills Lab, offers a resource for residents and surgeons pursuing technical expertise in line with the ACS curriculum.
The lab provides an appropriate setting outside the operating room for residents and surgeons to gain proficiency with, or brush up on, a variety of techniques. For surgical residents, this represents a departure from traditional "see one, do one, teach one" methodology, instead offering hands-on training prior to a patient encounter. The skills lab hosts lectures, laboratory sessions and scheduled training.
The Simulation & Advanced Skills Institute hosts residents and staff from various departments and specialties such as: surgery, cardiology, neurosurgery, gastroenterology, respiratory, anesthesiology, and orthopedics. Training topics have included: stapled and sutured bowel anastomosis, vascular anastomosis, creation of ostomy, opening and closure of the abdomen, vascular access, central line and chest tube insertion, endoscopic vein harvest, skin suturing, joint injection/aspiration, and interventional vascular techniques. Basics like, skin suture, scrubbing, gowning, gloving, and draping are also offered.
The Simulation & Advanced Skills Institute within Guthrie Robert Packer Hospital offers an invaluable state-of-the-art multidisciplinary training facility supporting physicians, medical residents, surgical residents, nurses, ancillary staff, and students with the goal of technical expertise and quality patient care. 
 
The lab provides a safe learning environment outside the patient care setting for medical staff to gain proficiency with various skills and techniques in an atmosphere that fosters interprofessional collaboration in education and training with the patient at the forefront. This complements traditional methodology by offering hands-on training before a patient encounter. 
The skills lab hosts lectures, laboratory sessions, and scheduled training.
 
The Simulation & Advanced Skills Institute support staff from various departments and specialties, such as: 
Training topics range from basic to advanced and have included: 
Stapled and sutured bowel anastomosis
Vascular anastomosis
Creation of ostomy
Vascular access
Central line insertion
Chest tube insertion
Bronchoscopy
Skin suturing
Airway management
Surgical asepsis training
Facilities:
The space provides staff and visitors with a safe learning environment. Each area of the lab can flex as a multi-purpose space to best suit the desired learning objectives.
Two state-of-the-art lecture areas, equipped with 80" interactive white-board monitors, provide a convenient space to conduct conferences or didactic training.
Three additional training rooms house high, medium and low fidelity simulators and training equipment.
The Team Training room is equipped with an overhead lift system and other devices to facilitate training in safe patient handling. 
The Mock OR houses a scrub sink to accommodate surgical asepsis training.  Additional lighting and an OR table are available for simulated surgical scenarios and cadaver labs. Equipped with audio and video capabilities, the room can be configured for multi-specialty patient simulation (emergency room bay, ICU room or patient care room) allowing staff to conduct interventions as they would in patient care areas. Video and audio live streaming allows for post training debriefing and review of interventions.
The Central Line room is stocked with a variety of task trainers and ultrasound equipment.  Staff are granted access 24 hours a day, 7 days a week for practice and honing of skills.
High Fidelity Simulator Options:
Gaumard Noelle Maternal Care Patient Simulator and Birthing Trainer- customizable trainer mannequin capable of being programmed to present a variety of birthing scenarios and complications.
Gaumard Newborn Hal - wireless newborn mannequin for neonatal care and resuscitation practice.
Gaumard HAL S3201- an advanced multipurpose patient simulator using tetherless technology to simulate realistic patient scenarios in multiple situations and locations.
Gaumard Pediatric HAL S2225- a wireless pediatric patient simulator capable of lifelike emotions through facial expressions, movement, speech, etc.
Vimedix Echo and sonography simulator- virtual reality beating heart imaging for trans-thoracic echo, trans-esophageal echo, abdominal pathology, and FAST exams (focused assessment with sonogram for trauma).
Simbionix-3D Lap Mentor laparoscopic simulator- basic and advanced laparoscopic skills and procedure training including but not limited to appendectomy, cholecystectomy, hernia repairs, gastric bypass, colectomy and thoracoscopic lobectomy.
Simbionix-3D GI/Bronch Mentor - GI modules for colonoscopy and upper endoscopy incorporating basic skills training up to advanced procedures to include Colonic Biopsy, Gastric Bleeding, ERCP, and EUS. Flexible bronchoscopy training from basic skills to EBUS and TBNA.
SonoSim-Active Ultrasound Training and Education with Modules.
Sonosite PX ultrasound machine contains a library of video education modules that lead learners through the journey of ultrasound use.
VirtaMed Simulator with LaparoS and ArthroS LaparoS General Surgery abdominal simulator  provides a highly realistic environment surgical environment for laproscopic surgery, while the ArthroS knee, ArthroS fundamental, and ArtroS shoulder allow for arthroscopic surgery simulation.
Medium Fidelity Simulator Options:
Laerdal SimMan ALS mannequin
TraumaMan System- surgical skills training for cricothyrotomy, needle decompression, tracheostomy, , chest tube insertion, pericardiocentesis, diagnostic peritoneal lavage, and IV cutdown.
Low Fidelity Simulator options (all are not listed):
CentraLineMan- a venous simulator to train individuals on subclavian, supraclavicular and internal jugular central line access. CentraLineMan also allows the user to utilize ultrasound guidance and imaging during central line catheter placement.
FLS trainer box- multiple Laparoscopic box trainers are utilized to practice skills that comprise the Fundamentals of Laparoscopic Surgery (FLS) program, developed by SAGES and jointly supported by the ACS. FLS is a comprehensive educational module designed to teach the physiology, fundamental knowledge and technical skills required in basic laparoscopy.
Adult, pediatric, infant, and neonatal intubation trainers are available to practice airway management in all ages.  These trainers can be used with our GlideScope Core all-in-one system or the Storz Video Laryngoscope.
Ultrasound compatible trainers are available and allow individuals to practice diagnostic and/or therapeutic skills.  Trainers include Arterial Line trainer, ABG trainer, Paracentesis trainer, Thoracentesis trainer, Femoral Line trainer, and Lumbar Puncture and Epidural trainer.
IV Insertion Arm allows learners to become proficient in the skill of IV insertion.
While low fidelity trainers are not intended to closely approximate a living subject, their components are anatomically true. Repetitive use of low fidelity trainers help individuals gain an understanding of procedure and appropriate situational response.
Wet Labs:
Human cadaveric specimens are utilized to practice specific procedures not readily able to be simulated, such as fasciotomies, amputations, joint replacements, hardware implant placement, skin grafts, and more.
Porcine specimens including aortas, hearts, stomachs, intestines, and plucks are also utilized to practice multiple procedures.