Edmund Sabanegh, MD, MBA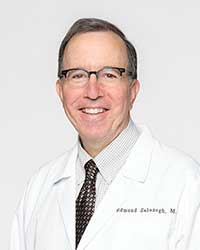 Dr. Sabanegh, an experienced physician executive and healthcare leader, was named President and Chief Executive Officer of The Guthrie Clinic in July 2021. He will assume his responsibilities September 13, 2021.
Guthrie is an integrated health system spanning 12 counties in north central Pennsylvania and upstate New York comprised of a research institute, hospitals, home care and hospice services and a multi-specialty group practice. Guthrie is dedicated to training the next generation of health care leaders, offering seven residencies and three fellowships and serving as a regional campus for the Geisinger Commonwealth School of Medicine.
Dr. Sabanegh joins Guthrie as President and CEO after more than a decade of proven leadership at the Cleveland Clinic, where, as President of the health system's Main Campus and Regional Hospitals, he led a team of more than 12,000 clinical caregivers, expanded clinical services for the system's patients and achieved the highest caregiver engagement in the organization's history. His leadership of the system was nationally recognized for value performance.
Dr. Sabanegh brings extensive experience in multiple aspects of large practice healthcare and academic systems to his role at Guthrie. He will oversee Guthrie's high quality patient-centered care and ensure it is delivered consistently across the local communities that the system serves.
In a prior role with Cleveland Clinic, Dr. Sabanegh served as Enterprise Director for the organization's 1,000-member Care Affordability Task Force. He engineered the design of a thoughtful, comprehensive approach, lowering the cost of care, which resulted in more than a billion dollars in financial efficiencies and also improved the accessibility of care for patients in the community.
In addition, under Dr. Sabanegh's leadership as department chair, the Cleveland Clinic Department of Urology was ranked as the number-one Urology program in the nation by US News while also having the number one ranked residency training program by Doximity. He also helped prepare the next generation of urologic surgeons as part of the senior teaching staff at Cleveland Clinic's prominent Lerner College of Medicine.
A strategic, innovative leader, Dr. Sabanegh's experience also includes 21 years of service in the United States Air Force where he held several executive roles, including Chief of Medical Staff, chief consultant for the Surgeon General, and Chief Operating Officer at the largest Air Force hospital in the world. In those roles, he and his team were responsible for providing the highest quality peacetime care to military beneficiaries while ensuring readiness for healthcare team deployments throughout the world.
He serves on the Board of Directors for the American Heart Association Midwest Affiliate and was honored with the American Heart Association's Service Award in 2019. Dr. Sabanegh is board certified by the American Board of Urology and has maintained an active clinical practice. He is a member of multiple medical societies including the American Society for Reproductive Medicine, the American Urologic Association, and the Society for the Study of Male Reproduction and Urology. An author of more than 200 academic publications, his education includes a Bachelor of Science, Engineering degree from Princeton University, a Doctor of Medicine degree from the University of Virginia, and a Master of Business Administration degree from the Weatherhead School of Management at Case Western Reserve University. Dr. Sabanegh completed his Urologic Surgery Residency at Wilford Hall USAF Medical Center and his Microsurgery Fellowship at Cleveland Clinic.