Saturday, May 13, 2023 | 8 a.m. - 11 a.m.
Sayre Theatre
205 South Elmer Avenue
Sayre, PA 18840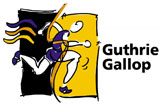 39TH ANNUAL GUTHRIE GALLOP LIVE RACE
Proceeds from the Guthrie Gallop will benefit Guthrie's Cancer Care Fund.  The Cancer Care Fund provides financial relief to Guthrie cancer patients at all Guthrie Cancer Center facilities. Financial burdens can take a significant toll on our patients, who should be focusing on healing and finishing their fight against cancer. Guthrie's Cancer Care Fund helps to ease the burden by supporting expenses related to housing, transportation, and utilities.