The members of the Guthrie Senior Leadership Team are listed below:
Joseph A. Scopelliti, MD
Dr. Scopelliti is President and Chief Executive Officer of Guthrie. He joined Guthrie Clinic, Sayre, PA in 1984 and today is both the CEO and a practicing gastroenterologist at Guthrie. He has served in many roles within the Guthrie Clinic and Guthrie Healthcare System, including President of the RPH Medical Staff, Chair of the Quality Committee and Vice-President for Clinical Affairs for the Guthrie Clinic. He serves as a Clinical Instructor with the State University of New York Upstate Medical University at Syracuse, N.Y. and since 2005, he has also been associated with the University of Rochester, Rochester, N.Y., as an Associate Clinical Professor of Medicine. A Diplomate of the American Board of Internal Medicine in the Subspecialty of Gastroenterology and the National Board of Medical Examiners, he is a published researcher and serves as the Chairman of the Guthrie Graduate Medical Education Committee.
Paul G VerValin, MBA, FACMPE
Paul VerValin is Executive Vice-President and Chief Operating Officer for Guthrie, responsible for the operational performance of the multi-specialty group practice and four-hospital system. In addition, Mr. VerValin is responsible for strategic business development and strategic partnerships for Guthrie Health. He served as a key leader of Guthrie Clinic and Guthrie Health from 1994-2004 in a series of roles leading up to Senior Vice President of System Operations. Mr. VerValin subsequently became President and Chief Operating Officer of North Shore Physicians Group and Vice President of Physician Services for North Shore Medical Center, a division of Partners Healthcare in Boston, Mass. Most recently, he has served as the President and Chief Administrative Officer of the Northeast Georgia Physicians Group and Senior Vice President of Northeast Georgia Health System in Gainesville, Georgia. Mr. Vervalin earned Master of Business Administration and Master of Science Degrees from Florida Institute of Technology.  He is a member of the American Medical Group Association and a fellow of the American College of Medical Practice Executives.
Frederick J. Bloom, M.D.
Dr. Frederick Bloom is President of Guthrie Medical Group. He joined Guthrie in 2014 from Geisinger Health System where he worked for 28 years in increasing roles of physician leadership. He serves as both the President of the medical group and a practicing family medicine physician. Dr. Bloom graduated from Hahnemann Medical College in Philadelphia, Pennsylvania and subsequently did his Family Medicine Residency at Saint Vincent Health Care Center in Erie, Pennsylvania. Dr. Bloom also earned his Master of Medical Management at Tulane University in New Orleans, La. Dr. Bloom is a frequent national speaker and author of numerous peer reviewed articles on high value health care. He serves on the National Committee for Quality Assurance (NCQA) Recognition Program Review Oversight Committee and is the former chairperson of the American Medical Group Association Quality Council.
Brian H. Fillipo, MD, MMM, FACP
Dr. Fillipo is Executive Vice President and Chief Quality Officer for Guthrie, Chief Medical Officer-Hospital Division and Designated Institutional Official for Graduate Medical Education at Guthrie Robert Packer Hospital. Prior to this appointment, Dr. Fillipo served as Chief Medical Officer for Guthrie Health from 2012-2014. He has 28 years of experience in health care, both as a clinical educator and as a health care administrator. Dr. Fillipo earned his Bachelor's degree in Biology and Chemistry from West Chester State College in Pa. He attended medical school at Hahnemann University in Philadelphia, where he completed a residency in Internal Medicine. He went on to earn a Master's degree in Medical Management from Tulane University, La. in 2003. Dr. Fillipo is a published researcher. In 2013, he was named among Beckers Hospital Review's 100 Hospital and Health Systems CMOs to Know.
Catherine Mohr, DNP, RN, NEA-BC
Catherine "Kate" Mohr is Executive Vice President, Chief Nursing Officer for Guthrie. She is responsible for overseeing all nursing activities across the Guthrie system. Mohr joined Guthrie in 2016, bringing with her over 30 years of experience in nursing and nursing leadership positions. She received her Bachelor of Science in Nursing from the College of New Rochelle in New York, a Master of Science in Nursing from Duke University School of Nursing and a Doctorate of Nursing Practice from American Sentinel University. She is certified in Advanced Nursing Administration from the American Nurses Credentialing Center (ANCC).
Frank Pinkosky
Frank Pinkosky is Executive Vice President, Chief Human Resources for Guthrie. With 25 years of experience at the DuPont Company at a variety of northeastern and southwestern plants, office and distribution locations, he has served in functions within manufacturing and operational leadership; corporate human resources; safety, health and environmental management; sales and marketing; customer service and distribution; and accounting. During his tenure at DuPont, Pinkosky gained experience in the Six Sigma data-driven approach to process improvement. His educational background includes a Bachelor Degree in Accounting from St. Bonaventure University, Olean, N.Y.
Bert Robles
Bert Robles is Executive Vice President, Chief Information Officer for Guthrie. He is responsible for overseeing the strategic goals, policies and procedures of Guthrie's information technology division with the mission to deliver excellence in health care through information, technology, and innovation. He joined Guthrie in 2015, bringing with him over 30 years management experience in health care and information management. Robles previously served as the Senior Vice President and Corporate Chief Information Officer of the NYC Health and Hospital Corporation, and as Chief Information Officer of the State University of New York Downstate Medical Center. Robles has an MPA in Healthcare Administration and is a member of the College of Health Information Management Executives (CHIME) and the Healthcare Information Management and Systems Society (HIMSS).
Philip J. Ryan, CPA
Philip J. Ryan, CPA, is Guthrie's Interim Chief Financial Officer. Ryan brings over 30 years of experience in health care finance, and previously served at Crozer-Keystone Health System, Springfield, Pa., where he held the position of Sr. Vice President and Chief Financial Officer, responsible for all financial functions for a $750 million (net revenues) organization. Ryan received his MBA in Finance from St. Joseph's University, Philadelphia, Pa. and his B.S. in Accounting from Penn State University, University Park, Pa.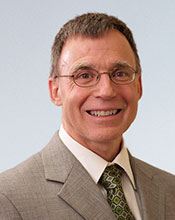 Michael Scalzone, MD, MHCM, FACOG
J. Michael Scalzone, MD is Executive Vice President for Medical Affairs for the Guthrie Medical Group. He has been with Guthrie since 1998 and served as Associate Vice President for Medical Affairs and chairman of the OB-GYN department. .He served as the Chief, Section of Obstetrics and Gynecology, for Guthrie Clinic Corning Region from 1998-2008. Dr. Scalzone received his Masters in Health Care Administration from Harvard University in 2008. He completed a residency in OB-GYN from The Ohio State University in Columbus, Ohio and medical school at the Pennsylvania State University, Hershey, Pa. Dr., Scalzone served as a member of the Guthrie Clinic Board of Directors from 2002-2008 and a member of the Guthrie Corning Hospital Board of Directors from 2005 to present.
Donald Skerpon
Donald "Donnie" Skerpon is the Administrative Chief of Staff to the Chief Executive Officer of Guthrie. Skerpon's responsibilities include serving as the primary conduit for interactions between the CEO and the various Boards within the organization. In addition, he is responsible for governmental and regulatory relationships as well as community interactions on specific projects. He spent nearly a year with Guthrie as an experienced Administrative Fellow His background is as a Program/Project Manager for Lockheed Martin in Owego, N.Y. where he led several projects including the development of specialized helicopters for the purpose of aerial re-supply. Skerpon earned a Bachelor of Science degree in electrical engineering at Penn State.
Staci Thompson, MHA, CMPE
Staci Thompson is Executive Vice President and Chief Operating Officer of the Guthrie Medical Group. Thompson has served in various leadership roles in her 18-year career with Guthrie Clinic including Vice President of Guthrie Health with system-wide responsibility for strategic planning and marketing and provider recruitment, Vice President of Operations for Guthrie Clinic, and Vice President of Oncology Services. Her education includes a Bachelor's degree in Biology from Gannon University in Erie, Pa. and a Master in Health Administration from Penn State University. She is member of the American Medical Group Association and Certified Medical Practice Executive.