Nurse Externship Program (NE)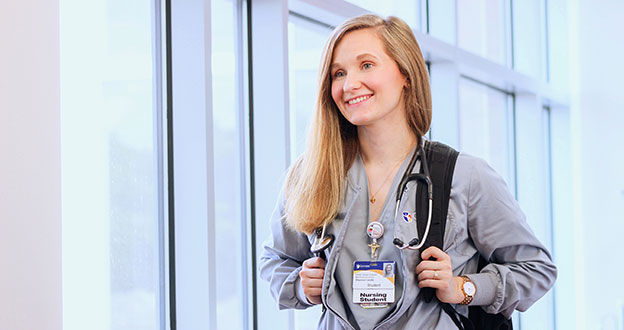 Are You a Nursing Student Preparing to Enter Your Senior Year?
If so, it's time to take advantage of Guthrie's Nurse Externship Program (NE).
The NE program is for student nurses wishing to expand their clinical communication skills and knowledge, and build a strong self-assurance before going into their senior year of nursing school. The Guthrie NE Program is a paid 9-week program starting at the beginning of June and ending in the middle of August. NEs will spend five weeks each on two different clinical units (options include medical/surgical, specialty or critical care units).  Each NE participates in a one-week orientation program in the classroom and skills lab setting to prepare for this experience.
At Guthrie you will learn how to focus on patient safety, quality and satisfaction, and expand your knowledge in the professional nurse's role as a member of an interdisciplinary, collaborative health care team.
What will your role look like as a nurse extern?
The nurse extern will work side-by-side a Registered Nurse preceptor and be responsible for: 
Direct patient care, including collection of assessment data, medication preparation, documentation, and dressing changes
Providing age-appropriate, culturally and ethnically sensitive care 
Reinforcing education to patients and their families about healthy practices and treatment modalities
Assuring continuity of care across settings and among caregivers
Managing information, communicating effectively and utilizing technology 
The nurse extern utilizes the nursing process to assist the RN in performing direct and indirect nursing activities to patients of various age groups (neonatal to geriatric). This includes the components of assessment, nursing diagnosis, outcomes identification, planning and coordination, implementation, and evaluation.
The role of the nurse extern also includes:
Patient advocacy
Teaching
Performance
Improvement
Quality & safety
Leadership & professional development
Guthrie NE Program Benefits:
Opportunities for paid observational experiences with other units/specialties
Participate in educational/skills sessions focused on nursing practice and designed to enrich your learning and development. Opportunity for continued employment during senior year of nursing school on a per diem basis in the role of a Student Nurse Care Partner after successful completion of the NE program
Opportunity for continued employment during senior year of nursing school on a per diem basis in the role of an Advanced Patient Care Technician (APCT) after successful completion of the NE program
Approved uniforms provided at no cost
Early interview opportunities for the NLRN program with early acceptance. Start your senior year with the confidence of having your career ready to go!
Extern Qualifications:
Eligible candidates' qualifications:
Be enrolled in an accredited registered nursing program and be one year or less away from graduating when starting as a nurse extern
Be in good standing with the nursing school with a GPA of 3.0 or higher

Provide at least two references from a recent clinical faculty attesting to the candidate's clinical skills (must be from current program of study)

Submit a completed evaluation form from their current manager if a current Guthrie employee
Have current BLS certification
Participate in the interview process
Pass a pre-hire screening process
Application Process:
PHASE 1: 
Complete the application process
Application process includes resume submission and five references.
PHASE 2:  
After successful completion of Phase 1 applicants will receive an email from a Guthrie Nurse Recruiter. If the student has been selected the recruiter will request two forms to be filled out and submission of their transcript:

Skills Experience Checklist 
Students most recent medical-surgical instructor fills out a checklist based on the student's clinical experience with adult patients.
The Clinical Recommendation Form
Students ask two members of the nursing faculty at their school of nursing to complete the requested form. One must be the most recent medical/surgical clinical instructor. The other may be any nursing faculty member the student has had in class or clinical, or the program director. 
Submission of Transcripts 
Students must request their transcripts from the University Registrars Office:
Essay
Submit a one page essay.

PHASE 3:  
After successful completion of Phase 2 the Nurse Recruiter will call the student to set up interviews as the final round of evaluation for the program. Interviews will only be scheduled when all documentation is submitted to HR.
NE Important Dates:
Program Start Date: TBA
Program End Date: TBA