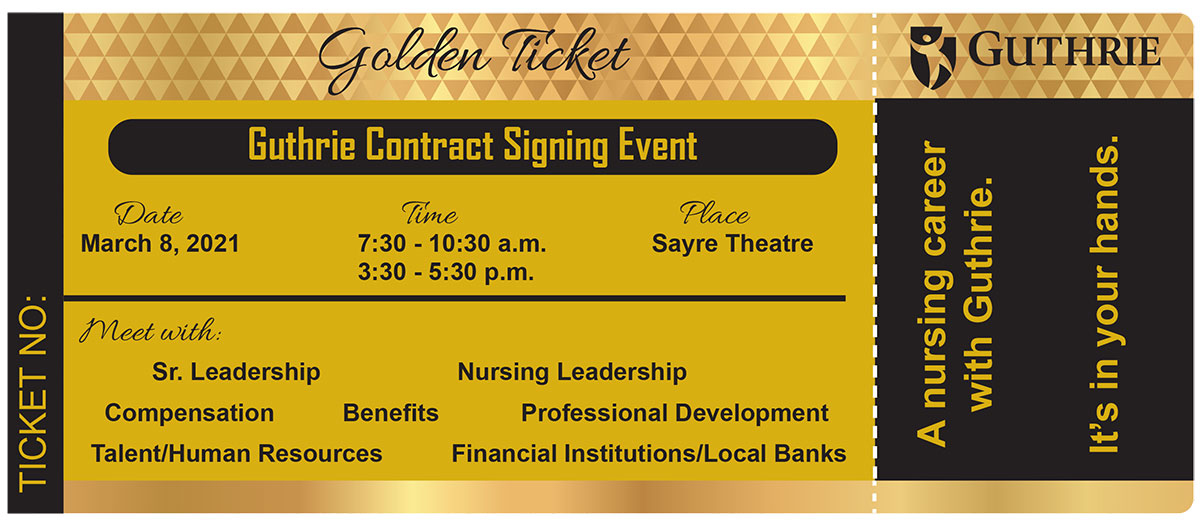 You are invited to an exclusive contract signing event with Guthrie on March 8 at the Sayre Theatre.
Why attend?
Presentation of offers for employment*
Meet with Compensation, Benefits, Professional Development, Talent/Human Resources, Nursing Leadership, Sr. Leadership and Financial Institutions/Local Banks.
Receive signing gifts
*contingent on successful completion of contract.
Message from Kate

Thank you for your dedication to Guthrie for the past 2 years. The exceptional care and compassion you have shown to our patients does not go unnoticed. We could have never imagined what 2020 was going to throw at us but you have continued to show me, Guthrie, your team and our community your commitment to patient care. You are doing exactly what you were trained to do and stayed true to your passion. We would love nothing more than for you to call Guthrie your permanent home and to continue to care for our patients.
The favor of your reply is requested by March 1.