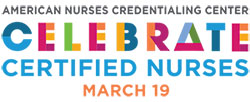 Guthrie is celebrating Certified Nurses Day, which is held each year on March 19, by honoring its board-certified nurses.  
Board certification of nurses plays an increasingly important role in the assurance of high standards of care for patients and their loved ones. Nursing, like health care in general, has become increasingly complex. While a registered nurse (RN) license provides entry to general nursing practice, the knowledge-intensive requirements of modern nursing require extensive education, as well as a strong personal commitment to excellence by the nurse.  
Guthrie encourages national board certification for all of our nurses. Patients are encouraged to inquire whether there are certified nurses on staff when they visit a hospital or their primary care provider. There are many nursing certification specialties, such as medical-surgical, pediatric, pain management, cardiac vascular, oncology, hospice, case management, emergency nursing, critical care and many others. Many nursing certification bodies exist to serve the full range of specialized nursing care offered in the contemporary health care system; national nurse-certifying bodies should be accredited by the Accreditation Board for Specialty Nursing Certification (ABSNC) or the National Organization for Competence Assurance (NOCA). 
Please join Guthrie and the nation's national nursing certification organizations in honoring those hardworking, dedicated nurses for their professionalism and a job well done! 
More About Specialty Certification 
Specialty Certification is a way for Registered Nurses (RN) to demonstrate their expertise and establish credibility within a special clinical area. This recognition is most commonly awarded by a professional nursing organization and is earned by successful completion of a certification examination. Most specialties have a minimum number of practice hours in order to be eligible to take the exam.  
Guthrie supports and encourages all eligible RNs to become certified in one clinical specialty. Links to additional certification details can be found on Guthrie's intranet by clicking here. Exam fees are eligible for reimbursement and an hourly stipend is also awarded to those who pass the exam. In some instances, Guthrie supports preparation courses to assist nurses through the process. Questions can be answered by appointment for planning your certification journey and can be arranged with any Guthrie Nurse Educator. You may also contact the Director of Nursing Professional Development, Sally Bennett, PhD, MS, BSN, RN-NPD for more details.  
Guthrie is a Success Pays® organization. If you are taking an exam offered by the American Nurses Credentialing Center (ANCC), you may be eligible to use this method of payment to cover your exam costs. Success Pays® is a way to assist healthcare professionals in achieving certification, while eliminating test-taking anxiety and financial barriers. Clinicians are given two opportunities to test for a certification specialty and Guthrie pays for those who pass (ANCC, 2021). For more information, visit the Success Pays® website. If you are taking an exam offering by a different organization, test vouchers may be available. Please contact Sally Bennett to find out if your exam has a voucher available.