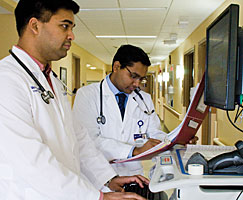 Guthrie is recognized as a high quality healthcare organization as witnessed by numerous national awards.
Train with some of the finest physicians in their fields
Rigorous Training in all six of the ACGME competencies 
High level of residency participation and programmatic development
Personalized attention in educational development
Residents see patients in a variety of clinical settings. Guthrie sub-specialists are an integral part of the teaching culture, and welcome opportunities to consult with residents.
As a tertiary care referral center, Robert Packer Hospital receives complex clinical scenarios from a wide geographic area, providing internal medicine residents with experience in treating a broad and diverse range of conditions.