Skills Lab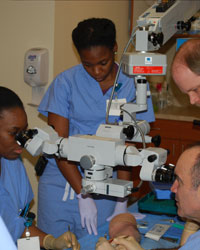 Students who choose Guthrie receive both a chance to participate in hands-on clinical rounds and have the opportunity to practice their skills in a simulated learning environment.
The Skills Lab at Guthrie Robert Packer Hospital provides an appropriate setting outside the operating room for residents, students, and physicians to gain proficiency with, or brush up on, a variety of techniques. This represents a departure from traditional "see one, do one, teach one" methodology, instead offering hands-on training prior to a patient encounter. The Skills Lab hosts lectures, laboratory sessions and scheduled training.
Key Features of the Skills Lab:
Five dedicated rooms including: three training rooms equipped and staged appropriately to the skill being practiced; one lecture space; and an office.
Equipment, such as the Stryker endoscopic video system, anesthesia machine, Valley Lab cautery machine, bronchoscopy module, Noelle Birthing Trainer, TraumaMan, and CentralLineMan.
Central line kits and sterile supplies for training purposes.