Welcome From the Program Director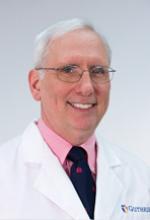 We are excited that you are interested in the fellowship program at Guthrie Robert Packer Hospital.  Our Pulmonary and Critical Care Medicine section has a long history of excellence in care for critically ill adults and patients with lung disease.  A mainstay of our philosophy is a strong dedication to teaching.  For many years, this has included education of respiratory therapy students, medical students and Internal Medicine residents.  We are very pleased to now offer training at the fellowship level.
The Guthrie Clinic has been built on a foundation of providing integrated, comprehensive care in a rural environment.  Since the Clinic's inception, medical education has been a cornerstone of our mission.
Fellowship training in Pulmonary Disease and Critical Care Medicine will provide comprehensive exposure to all aspects of care of patients with lung disease including diagnostic and therapeutic procedures in a diverse patient population as well as experience in all aspects of adult critical care.
Thank you for your interest in our program.  We look forward to sharing with you our vision for training excellent clinical pulmonologists and intensivists.
James J. Walsh, MD, MSHA, FACP, FCCP
Program Director