Easy access to your COVID-19 vaccination information with eGuthrie
Use eGuthrie to view or share your COVID-19 vaccine information, either electronically or as a paper copy. To get started, log in to your eGuthrie account and choose COVID-19 Activity in the menu.

Sharing your vaccination information
Electronically
Choose the QR codes button. The person you are sharing with can scan the QR code to see your vaccination information.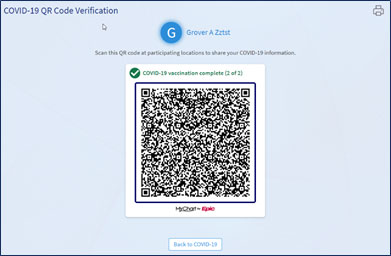 ---
Paper Copy
Click the Download/Export button, which will take you to the Share COVID-19 Information screen.

 
Click the Download button.
 
Click Download on the confirmation screen.

 
The document will start downloading and appear in a bar at the bottom of your browser.
 
When done, you can click on the document from the bar at the bottom of the browser or find the document on your PC.
 
Print the document if needed.

Accessing your vaccine information
You can access your vaccination information from your mobile device, without logging in, by taking the steps below.
From the COVID-19 Activity menu option, click Learn More to review and turn on the feature.

 
On the next screen, click Next.

 
Click the Turn on COVID-19 Status Preview button.

 
You will now be able to see your vaccine information and COVID-19 test results before logging in.

 
To share your record, click the QR Codes to open the QR code.

 
To view your vaccine and test results, click Show Details.

 
To turn off this feature, log in to eGuthrie and navigate to Account Settings. Use the COVID-19 Status Preview toggle to turn setting off and on.