Classes begin March 7 and April 18.
Are you interested in a patient care role at Guthrie? Guthrie is excited to be partnering with Corning Community College on a paid training program for Care Partners. This four-week program will provide classroom and clinical training to prepare you for a patient care role at Guthrie.
Candidates will be required to apply to a care partner position and will be interviewed and selected. Once selected the candidate will be hired into a care partner position and sent to training.
Patient Care Partners play a vital role in our patient experience at Guthrie. As a Patient Care Partner, you will work directly with patients and their families. This role allows you to make a difference in individual lives in a positive and meaningful way.
What you can expect working in a hospital setting:
Fast-paced environment
High number of patients
Diverse patient care
Physical exertion such as moving bedridden patients
Personal Hygiene
Bathing/Showering
Mouth Care
Room Preparation
Set up for new admissions
Set room for patient after procedures
Strip room at discharge
Documentation
Food and Fluid intake
Basic care
Vital signs
Empty Bedpans
Walk patient to the bathroom
Provide bedpans
Assist with personal needs
Catheter Bags/Drains/Specimen Collection
Empty drains
Empty urinary catheter bags
Obtain specimens from multiple sources
Nutritional Needs
Pass/collect meal trays 
Assist with meal set up
Feed patients
Obtain Vital Signs
Temperature
Heart and respiratory rate
Blood Pressure
Observe Patient's Status
Sit with confused, restless or suicidal patients
Walk with unsteady patients
Answer Call Bells
Answer questions
Assist as requested
Replenish patient supplies such as tissues or refresh water
Turn Patients
Reposition for comfort
Prevents bedsores
FAQs
What are the responsibilities of a patient care partner?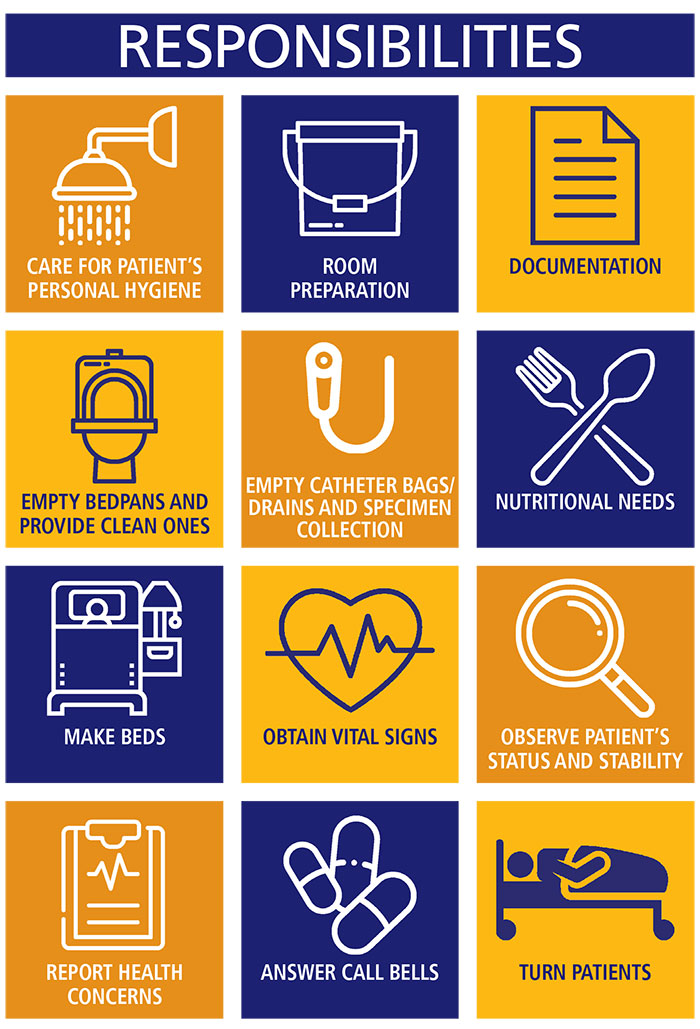 Where is the training program located?
The in-classroom training will be located at the Corning Community College Health Education Center at 132 Denison Pkwy E, Corning, N.Y.
The clinical training will be located at either Guthrie Corning Hospital or Guthrie Robert Packer Hospital.
What is the program time commitment?
You will be required to be at training Monday through Friday during business hours for a total of 30-40 hours a week.
What are the shifts of a care partner?
Care partners are expected to work 12-hour day or night shifts that will include holiday and weekends.
Is there a commitment agreement?
There is a one-year commitment agreement to Guthrie for employees who take the four-week training course.
Will my mileage be reimbursed for the training at Corning Community College?
Guthrie will reimburse your mileage based on your work location to travel to Corning Community College for training.