Welcome From the Program Director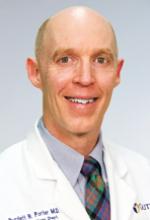 The Guthrie Robert Packer Hospital Anesthesiology Residency Program reflects our mission: "Guthrie works with the communities we serve to help each person attain optimal, life-long health and well-being. We will do so by providing integrated, clinically-advanced services that prevent, diagnose, and treat disease, within an environment of compassion, learning, and discovery."
The Guthrie Clinic originated in 1910 when Dr. Donald Guthrie arrived after training with the Mayo brothers. Guthrie Robert Packer Hospital is a rural, tertiary care center with a full spectrum of surgery specialties, giving residents broad exposure to complex and diverse cases. The hospital maintains a Level II trauma center, a robust musculoskeletal service line with subspecialty orthopaedic surgeons, and a cardiovascular center with hybrid rooms for cardiac surgery, cardiology, and vascular surgery. Urology, Gynecology, and General Surgery all perform robotic cases. In addition, the Department of Anesthesiology supports non-surgical proceduralists in Gastroenterology, Pulmonary Medicine, and Interventional Radiology. The hospital also provides the only labor and delivery unit in the county.
Teaching residents is a high priority for our anesthesiology faculty. Because we are a small community, our department maintains a close professional and personal relationship. We daily display the Guthrie values of patient-centeredness, teamwork, and excellence. Residents receive solid training in all traditional areas of anesthesia with subspecialty anesthesiology providers in cardiac, neuro, obstetrics, pediatrics, pre-admission services, pain management, and critical care. The program includes weekly didactic sessions. Guthrie also has a teaching affiliation agreement with the Geisinger Commonwealth School of Medicine. This affiliation provides our residents with an academic appointment during their residency.
Guthrie offers our residents a unique combination of medical technology, professional expertise, and individual attention. Clinical experience at Guthrie is considerably more extensive than in most rural hospitals. We are proud that depth, as well as a breadth of experience, are the hallmarks of Guthrie Anesthesiology. Together we embrace our vision statement:
Improving Health through Clinical Excellence and Compassion; Every Patient. Every Time.
Burdett R. Porter, MD, MMM, CPE, FAAPL (he/him/his)
Program Director, Guthrie Anesthesiology
Vice-Chair of Anesthesiology, Perioperative & Pain Medicine, The Guthrie Clinic
Clinical Associate Professor, Geisinger Commonwealth School of Medicine
Physician Informaticist